Worlport, capital city of Ord Mantell
Alderaan has been destroyed. The party fled to the shadow port of Ord Mantell. According to Ping, it's "a nice place to get lost". They visited a local watering hole and raised a toast to the billions lost.
The team realized the gem Vaun Madurrin wears is a kyber crystal, similar to the one Parrel Sabota recorded his memories on. When they inserted it into their holocron, a new gatekeeper appeared. He is a recording of Jedi Master Suljo Warde, a general in the Clone Wars. Madurrin was excited by this as his records of the war are spotty or have been confiscated by the Empire.
Warde informed the fledgling Jedi that his data is incomplete. All he knew is Master Warde intended to record more lessons, including how to achieve his unique Force ability, Warde's Forsight. The gatekeeper was sure more data must be on other crystals and Warde separated them for some reason.
He suggested traveling to the planet Arbooine. At the limit of this crystal's memories, he knows Warde had met a potential apprentice, Gel Marcolf. Warde intended to train Marcolf while setting up a Republic base on Arbooine. But Warde was called away by the Jedi Council and ordered to leave the planet undefended. In a desperate move, Warde left Marcolf in charge. Though rash and untrained, Warde hoped the young man could hold the fort until he returned.
Warde's gatekeeper believed that the residents of Quolas, a tree city of Arbooine must know what became of Marcolf and Warde after this event.
It's not much of a lead, but Professor Madurrin encouraged them to follow it. Finding such a complete record of a Jedi general from the Clone Wars would be an invaluable inclusion in any Jedi archive. And knowledge is the first step on a long path to freedom….
---
Meanwhile, Jacen had dismantled the device he took from Rogarth ke Silkhund after their battle. Inside is another crystal. Without telling the others, he inserted it into the holocron and met a new gatekeeper. One who promises knowledge, power and secrets….
---
Once on Arbooine, the heroes had to battle the wilds of the ancient jungle. Not the least of their adversaries were massive predatory Bearsloths.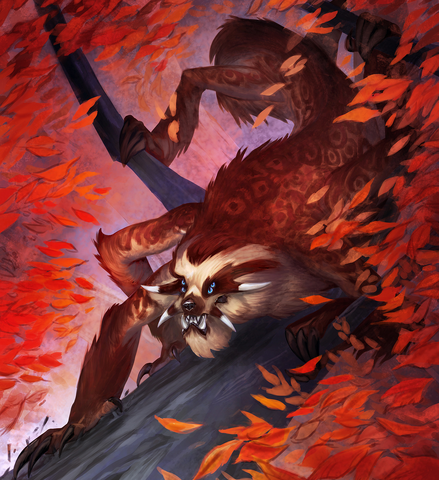 Arbooinian Bearsloth
Along the path they met a family of Sathari merchants who welcomed them to the planet, but warned of dark tidings in the city of Quolas. The reeve, Gel Marcolf, has spent many years solidifying power and holding sway over all that he rules. His guard force has become increasingly cruel and now that the Empire has taken notice of Arbooine, Marcolf is even more unhinged.
The party approached Quolas and made for the Imperial barracks outside the massive tree city. There they found part of the stormtrooper contingent. One well placed mind trick later and the young Jedi were ready to make for the city gates, Imperial troopers in tow….